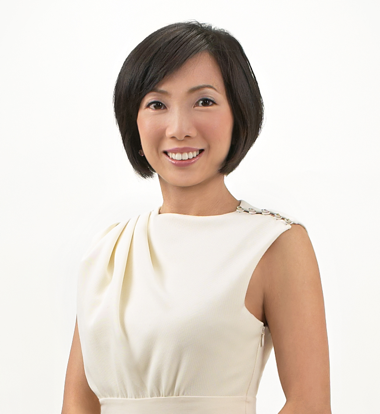 Dr Chia Yin Nin
Credentials
Bachelor of Medicine and Bachelor of Surgery (MBBS) 1998, National University of Singapore with Distinction in Obstetrics and Gynaecology.
Membership exams, Royal College of Obstetricians and Gynaecologists, London, UK (MRCOG) 2002
Diploma in Gynaecologic Oncology (DGO), Royal Australia and New Zealand College of Obstetricians and Gynaecologists
Diploma in Healthcare Management & Leadership (Singhealth-SMU)
Background
---
Dr Chia Yin Nin is currently a senior consultant gynaecologist and RANZCOG certified gynaecological oncologist at Gynaecology & Oncology Specialists, Gleneagles Hospital, Singapore. She is also the co-director of the pelvic and peritoneal group and a visiting consultant at the National Cancer Centre, Singapore, as well as a visiting consultant with KK Women's and Children's Hospital, Singapore.
Her main area of speciality interest is in the management and treatment of gynaecological cancers namely cancers of the cervix, uterus, ovary, fallopian tubes, vulva and peritoneum; precancer gynaecological diseases; and complex pelvic surgeries including open, laparoscopic and robotic surgeries. She performed the first laparoscopic radical hysterectomy in Singapore in 2011. Her other areas of practice include management of general and benign gynaecological conditions and as well screening and prevention of gynaecological cancers.
She graduated from the National University of Singapore in 1998 with a Bachelor degree in Medicine and Surgery (MBBS). She was awarded the Hoops Medal for Distinction in Obstetrics and Gynaecology and the Singapore Medical Association Bronze medal for excellent academic achievement for the MBBS. In 2002, she obtained her specialist qualification for the Membership to the Royal College of Obstetricians & Gynaecologists, London and in 2008, she obtained her certification in gynaecology oncology from the Royal Australian New Zealand College of Obstetricians & Gynaecologists. She also has a Diploma from Singhealth-Singapore Management University in Healthcare Management Leadership.
Dr Chia Yin Nin was previously the Deputy Head of the Department of Gynaecological Oncology as well as the Head of the Gynaecological Cancer Unit of the Department of Gynaecological Oncology, KKH. Her other past appointments include: KKH Medical Board member, Adjunct Assistant Professor with Duke-NUS Medical School, Singapore and she had received numerous teaching awards for her exemplary teaching at Duke-NUS Medical School.
She is one of the founding member and council member of the Asian Society of Gynaecologic Oncology and she sits on the Editoral Board for the Journal of Gynaecologic Oncology.
Her other academic appointments include President for the Society of Colposcopy and Cytology Singapore and council member of the Gynaecology Oncology subsection of the college of Obstetrics and Gynaecology Singapore.
Dr Chia has keen research interest in the areas of gynaecological cancer and Human Papillomavirus (HPV) vaccines, has participated in key landmark clinical trials in these disease areas, and was previously the Principle Investigator multicentre Bayer Ovarian Cancer 12007 Study.
Professional Appointments and Committee Memberships
Vice President, Society for Colposcopy and Cervical Pathology of Singapore
Council Member, Obstetrics and Gynaecology Society of Singapore, 2003 and 2004, 2007
Member of the Gynaecology Oncology subsection of the college of Obstetrics and Gynaecology Singapore
Member, Singapore Medical Association, 2006 – present
Fellows of the Academy of Medicine, Singapore, since 2007
Publications and Research Trials
Conference Papers
Nail bed culture 1999, Young Investigators Award SGH 1999 (YN Chia, SH Tan)

Presented at Singapore General Hospital Annual Scientific meeting 1999

Bowel Surgery for Epithelial Ovarian Cancer – An early case series (YN Chia, EH Tay, Dennis Cheong et al)

Free paper presentation at Singapore Malaysian Congress of O&G 2002
Published in Annals Academy of Medicine September 2003
Poster Presentation Annual Scientific Meeting KK Women's and Children's Hospital November 2003
Oral presentation of an updated series at the 19th Annual ASGO meeting 2004 Singapore

Successful pregnancy following Embolisation of an Arteriovenous Malformation of the uterus (YN Chia, C Yap, BS Tan) – a case report

Published in Annals Academy of Medicine September 2003
Poster Presentation Annual Scientific Meeting KK Women's and Children's Hospital November 2003

Laparoscopic Lymphadenectomy – An early case series (YN Chia, EH Tay)

Poster Presentation Annual Scientific Meeting KK Women's and Children's Hospital November 2003

Synchronus Tumours of Ovarian and Endometrium – How shall we manage them? (Z Shaffie, EH Tay, YN Chia et al)

Poster Presentation Annual Scientific Meeting KK Women's and Children's Hospital November 2003

Epitheloid Trophoblastic Tumour – A case report (Z Shaffie, EH Tay, YN Chia et al)

Poster Presentation Annual Scientific Meeting KK Women's and Children's Hospital November 2003

Research Frontiers in Gynaecological Cancers (YN Chia, P Tan, Benjamin Tham, et al)

Review article
Published in KK Women's and Children's Hospital Annual Review 2003

Triage of Adnexal Masses

Oral Presentation ASGO May 2006.
Accepted for publication ANZCOG 1st Quarter 2007

Microinvasive Adenocarcinoma of the cervix: a retrospective review

Poster Presentation at the International Symposium on Radical Hysterectomy dedicated to Hidekazu Okabayashi 2007, Kyoto, Japan
Referred Journals (International)
Management of Endometrial Cancer : Consensus Statement from Asian Oncology Summit 2009, Elsevier Editorial System ™ for The Lancet Oncology. Siriwan Tangjitgamol, Benjamin Anderson, Hui Ti See, Chawalit Lertbutsayanukul, Nakarin Sirisabya, Tarinee Manchana, Arunachalam Ilancheran, Khai Mun Lee, Siew Eng Lim, Yin Nin Chia, Elfrend Domingo, Young-Tak Kim, Chyong-Huey Lai, Ahmad Zailani Hatta Mohd Dali, Wisit Supakapongkul, Sarikapan Wilailak, Eng-Hseon Tay, John Kavanagh
A Unique Case of Coexisting Bladder Choriocarcinoma and Adenocarcinoma Supports A Transition Sequence From Germ Cell Tumour To Adenocarcinoma (IJU-00035-2010), International Journal of Urology, (Manuscript Submitted), Min-Han Tan, Yin Nin Chia
Concurrent Chemoradiotherapy incorporating High-Dose Rate Brachytherapy for Locally Advanced Cervical Carcinoma : Survival Outcomes, Patterns of Failure, and Prognostic Factors, International Journal of Gynecological Cancer, April 2010. Teh J, Yap SP, Tham I, Sethi VK, Chua EJ, Yeo R, Ho TH, Tay EH, Chia YN, Soh LT, Khoo-Tan HS
Survival and Disease Relapse in Surgical Stage I Endometrioid Adenocarcinoma of the Uterus after Adjuvant Vaginal Vault Brachytherapy, International Journal of Gynecological Cancer, May 2010. Kumar VJ, Nin CY, Kuei, LY, Tan KH, Yeo R, Lam PY
Triage of Ovarian Masses, Australian and New Zealand Journal of Obstetrics and Gynaecology, June 2008. Chia YN, Marsden DE, Robertson G, Hacker NF
Referred Journals (Local)
Bowel Surgery for Epithelial Ovarian Cancer – An early case series, Annals Academy of Medicine September 2003. YN Chia, EH Tay, Dennis Cheong et al
Successful Pregnancy following Embolisation of an Arteriovenous Malformation of the Uterus – A Case Report, Annals Academy of Medicine September 2003, YN Chia, C Yap, BS Tan
Research Frontiers in Gynaecological Cancers, KK Women's and Children's Hospital Annual Review 2003, YN Chia, P Tan, Benjamin Tham, et el
Microinvasive Adenocarcinoma of the Cervix, A Retrospective Review, Singapore Journal of O & G, Marianne Hendricks, YN Chia, et al
Achievements and Awards
---
President's Guides Award 1990
Dean's List 1997 and 1998 (MBBS)
Hoops Gold Medal 1998 (MBBS, distinction in O&G)
Singapore Medical Association Bronze Medal 1998 (MBBS, second in class of 98)
Best House Officer Award 1998
Young Investigators Award 1999 (Nail bed culture)
Human Manpower Development Programme (HMDP- MOH) Award 2005 for Gynaecology Oncology Subspecialisation in Sydney, Australia