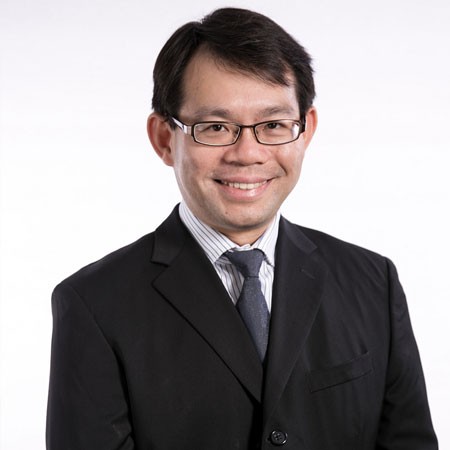 Dr Chew Huck Chin
Credentials
MBBS (National University of Singapore)
M.Med(Internal Medicine), National University of Singapore
M. Med(Emergency Medicine), National University of Singapore
Member, Royal College of Physicians (United Kingdom)
Member, Royal College of Surgeons (Edinburgh, UK)
Specialist in Respiratory Medicine, Ministry of Health, Singapore
Specialist in Emergency Medicine, Ministry of Health , Singapore
Specialist in Intensive Care Medicine, Ministry of Health, Singapore
European Diploma of Intensive Care
Diploma in Medical Ethics and Law, National University of Singapore
Fellow, Academy of Medicine, Singapore
Master in Business Administration ( Fuqua School of Business, Duke University, Global Executive Program)
Background
---
Dr. Chew is a specialist in Respiratory Medicine, Intensive Care Medicine and Emergency Medicine with special interests in bronchoscopy, non-invasive ventilation and intensive care medicine. He is also a visiting consultant in Singapore General Hospital, Mt. Alvernia Hospital, Raffles Hospital and an Adj. Asst. Professor at Duke-NUS Graduate Medical School as well as Senior Clinical Lecturer with the Yong Loo Lin School of Medicine at NUS.
Dr. Chew graduated from the National University of Singapore in 1999. He then obtained the Master of Medicine (Emergency Medicine) and the MRCS A&E (Edin) in 2003. He underwent specialty training in Emergency Medicine at Singapore General Hospital. Following this, he further obtained the Master of Medicine (Internal Medicine) and the MRCP (UK) in 2004 and underwent a second dual specialty training in Respiratory Medicine as well as Intensive Care Medicine at Singapore General Hospital. He was awarded the European Diploma in Intensive Care in 2009.
In addition to general respiratory medicine, Dr. Chew has a special interest in Intensive Care Medicine, non-invasive ventilation as well as bronchoscopy. He is well-versed in aspects of advanced ventilator support including extra-corporeal membrane oxygenation, airway pressure release ventilation, high frequency oscillatory ventilation and advanced bronchoscopic techniques such as endobronchial ultrasound-guided transbronchial needle aspiration. Dr. Chew is also able to perform ultrasound examinations of the thorax for evaluation of pleural effusions.